Open Innovation is the process of integrating external expertise into the innovation processes of a company or organisation. Co-operation with external partners offers many advantages such as cost efficiency, risk sharing, external creativity, increased flexibility and speed.
In order to effectively support companies in their innovation processes, Greenovate! Europe has established a comprehensive, interdisciplinary and integrated innovation network and offers selective and targeted access to key knowledge providers and potential collaboration partners throughout Europe.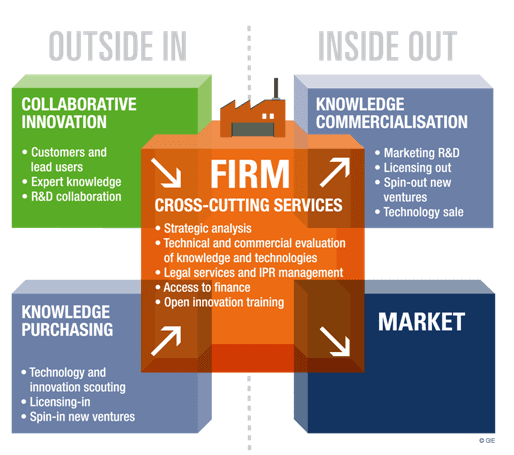 The expertise of Greenovate! Europe in open innovation
The key elements of our service are problem analysis, technology and commercial evaluation, commercialisation of research results and the implementation of spin-off processes and corporate venturing, always relying on risk sharing strategies.
Our partners include well-known global players, efficient regional industry clusters, industrial branch organisations and renowned research centres and technology developers. Our service providers speak the languages of technology, business, law and finance and we have strong working relations with public funding bodies and private equity organisations.