RUBIZMO and LIVERUR, both funded under the Horizon 2020 Programme, will bring together a wide variety of stakeholders on 7 October 2021 to officially mark the end of the two projects. Register for the event here.
While the projects are coming to an end, this event presents the opportunity to discuss and plan for the large-scale replication of innovative business models supporting sustainable growth and job creation in European rural areas.
Practical examples identified throughout the two projects will be featured before and during the event. In addition, the final event will be the opportunity to capitalise on the tools developed by both projects.
These tools, tailored for rural actors, include a library of inspiring business ideas and a business-oriented tool to support the implementation of circular economy solutions for the supply-value chains.
Speakers will include representatives from the European institutions, national and regional governments, agricultural industry, agricultural entrepreneurs and more.
Looking towards the future, participants will be invited to discuss and share possible solutions that foster the development of rural environments that can unlock rural business potential across Europe.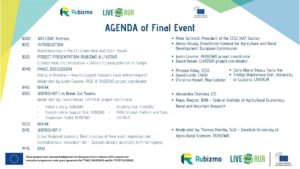 Events
Projects