7 June 2014, Brussels – A interim evaluation of SME participation in the 'Co-operation Programme' and the 'Research for the benefit of SMEs' (RSME) scheme reveals very positive impacts for SMEs and society as a whole. Impacts assessed include economic performance (employment growth, turnover, and exports), innovation, European added value and behavioural additionality.
The interim evaluation was performed on the basis of different variables, such as quantitative analysis of participating company results compared with a control group from financial databases, SME and stakeholder interviews and case studies across the EU28 and beyond.
SMEs participating in FP7 performed significantly better than others, the report reveals, with employment growth, for example, goring five times faster in participating SMEs than for non-participants.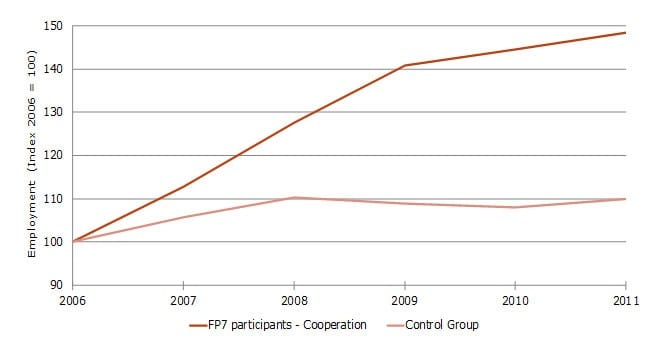 For SMEs participating in the Co-operation Programme, a positive impact on turnover was reported by 54%, for employment the figure is 50% and for exports 38%. On average, those participating SMEs that reported increases estimated plus 22% for turnover, plus 25% for employment and plus 28% for exports. For SMEs participating in RSME, a positive impact on turnover was reported by 32%, for employment this was 30% and for exports 27%. On average, these SMEs reported 16% higher turnover, employment and exports.
Many SMEs that participated in FP7 noted that results have not yet reached the market, with greater support needed to fund commercialisation. Horizon 2020, which focuses more on close-to-market activities and can provide commercialisation support through the SME instrument, can therefore be expected to have even greater impact.
For more information, see the European Commission's Editorial.