The SINFONIA Smart Cities project will demonstrate large-scale, integrated and scalable energy solutions in pioneer districts in Innsbruck and Bolzano by retrofitting more than 100,000 m2 of living surface, optimising the electricity grid and using district heating and cooling technologies.
Supporting Smart Cities and Communities
The SINFONIA project involves 25 partners from eight European countries and has received over €27 million of co-funding from the EU's Seventh Framework Programme for Research, Technological Development and Demonstration. The five year project is based around co-operation between the cities of Innsbruck (AT) and Bolzano (IT), who will work together to each achieve 40-50% primary energy savings and increase usage of renewable energies by 20% in two pioneer districts. The cities will combine the retrofitting of 100,000m2 of living surface, optimisation of the electricity grid and the use of renewable district heating and cooling.
The EU's Smart Cities and Communities Initiative aims to foster the uptake of smart energy efficient solutions, Europe-wide. Smart Cities combine diverse technologies to reduce their environmental impact and to improve quality of living for citizens. However, cities face not only technological challenges, but also organisational and governance challenges, thus requiring a multi-disciplinary response. For this reason, the Smart Cities and Communities Initiative supports the demonstration of energy, transport and ICT in urban areas.
Partnering with Early Adopters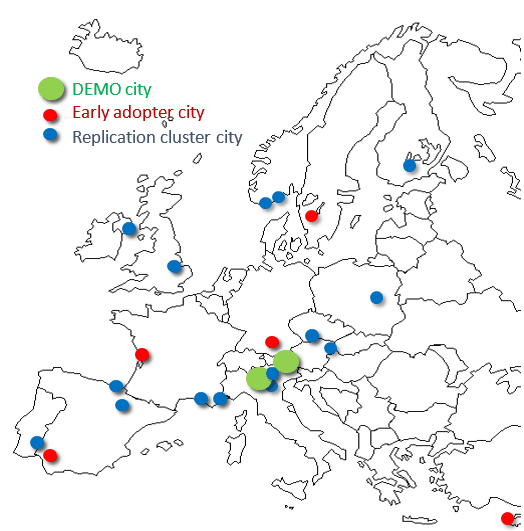 In order to ensure maximum impact, the SINFONIA project will focus on the transferability and scalability of the solutions demonstrated in the pioneer districts. To assist with this, the project is supported by five Early Adopter regions – La Rochelle (FR), Sevilla (ES), Pafos (CY), Rosenheim (DE) and Borås (SE). A further fifteen cities have expressed interest in replicating the results of the project, thus forming a Replication Cluster committed to learning and exchanging ideas with the pilot and early adopter cities.
"A close and long term collaboration between city authorities from seven European countries representing a wide variety of regulatory environments and climate zones, together with strong involvement of public and private stakeholders is what makes the SINFONIA project both unique and ambitious", said project co-ordinator Jason Nielsen from SP Technical Research Institute of Sweden.
To bridge the gap between demonstration and replication, SINFONIA will define a number of district typologies and suitable refurbishment models. To ensure their scalability and transferability, these models and typologies will be tested and validated with all stakeholders involved – public and private, from citizen to energy regulators – as part of the project.
My Smart City District
SINFONIA will also be teaming-up with the EU-GUGLE Project in the 'My Smart City District Campaign'. The campaign aims to maximise the replication potential of developed renovation models and share the cumulated experiences with other European cities. The platform acts as a network of cities, which have committed themselves to studying technical and economic feasibility reports, and integrating findings into their own master plans, which they can submit to others for review in turn. This network is intended to grow over time, to accelerate the deployment of integrated district-scale solutions for sustainable renovation.
Along with SP Technical Research Institute of Sweden as co-ordinator, SINFONIA also involves Greenovate! Europe members, Zabala Innovation Consulting, Technofi, Michael Heidenreich Consulting, and Atlantis Consulting Cyprus.
To find out more, visit the Sinfonia website, the My Smart City District campaign, or contact Guillaume Corradino.