The ISOBIO project aims to develop new bio-based construction materials and bring them to the mainstream, for the purpose of creating more energy efficient buildings.
Energy Efficiency in the Building Sector
As Europe and the world try to tackle climate change, there is greater awareness that the emissions of the building sector need to be drastically reduced. Buildings account for 40% of energy consumption in Europe, as well as 36% of greenhouse gas emissions. As well as environmental impacts, the built environment also has an impact on quality of life and of work.
Increasing the energy efficiency of buildings in Europe is one of the most effective and accessible ways to tackle climate change, as well as reducing heating bills for low-income households and improving human health. Insulation has a key role to play in the drive for energy efficiency, and researchers and industry are rediscovering bio-based aggregates such as straw, clay, wheat and grasses, as a basis for a new generation of low impact insulation materials.
ISOBIO – Naturally High Performance Insulation
The ISOBIO project is aiming to develop new bio-based insulation panels and renders and bring them into the mainstream for more energy efficient buildings. The aim is to deliver products with at least a 50% reduction in embodied energy and CO? emissions at component level, a 20% improvement in insulation properties, and a 30% reduction in life-cycle costs.
ISOBIO will assess and further develop natural insulation materials, hygrothermally (heat and moisture) efficient buffering materials, binders, sol-gel and resins. Bio-based aggregates will be treated to give properties such as moisture buffering, water repellence and fire resistance, to produce high performance materials for the construction sector. The new materials will be developed through a series of prototype-level demonstrations and will be used as a building envelope or for retrofitting purposes.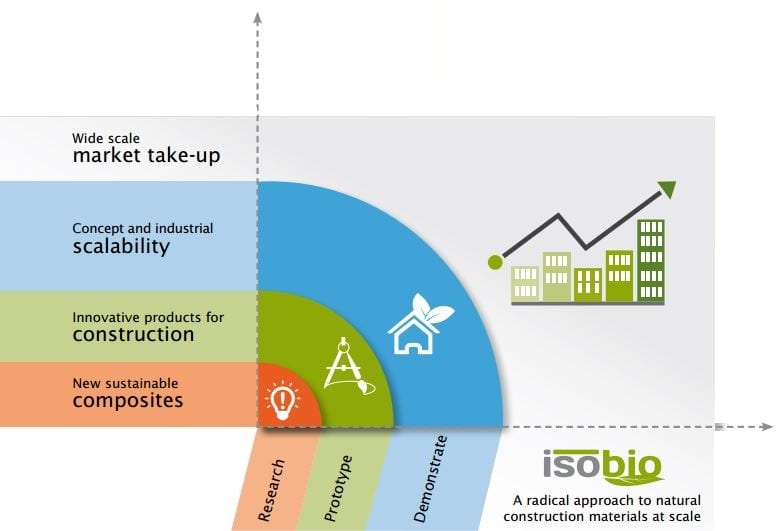 Expected Impacts
The ultimate goal of the project is to strengthen the European building sector in the field of "green" construction technologies. The project hopes to:
Establish proof of concept with demonstration and evaluation in pilot building projects through field trials at the HIVE facility at the University of Bath (UK) and at Acciona (Spain) to test the scalability of the materials and products developed;
Reduce the environmental costs of construction through the use of eco-friendly durable composites, which have proved to be sustainable, low-cost and high-performing, providing a cost effective alternative to conventional insulation panels;
Mature the technology and prepare the market place for exploitation using experts from Greenovate! Europe (BE) and Van der Meer & Van Tilburg (NL), who will develop an exploitation strategy and ensure that all parties work towards speedy market uptake;
Raise the profile of bio-based construction materials to reach a large audience in Europe by means of a wide dissemination plan and innovative media technologies.
Event: Science and technology solutions for bio-based insulation
The ISOBIO project will be hosting a workshop named, 'Science and technology solutions for bio-based insulation' on 4 February in Rennes, France. The workshop, hosted by the University of Bath, will bring together academic and research communities, and will focus on the theme of 'science and technology' in bio-based insulation. The project partners will share their experiences, present the project's approach and the first year's results, as well as discuss and gather feedback on the innovative products under development. Registration is open now.
ISOBIO is led by independent research and technology experts, TWI, and comprises partners from France, Spain, Germany, Norway, the UK and Belgium. The project runs from February 2015 for four years, has a budget of €6.3M, and is funded by the Horizon 2020 programme within the 'Materials for Building Envelopes' call for Energy Efficient Buildings, which aims to improve energy performance and reduced embodied energy, across the whole life cycle of a building.
For more information, see the ISOBIO project website.