The ETFE-MFM project will develop, evaluate and demonstrate an ETFE module with integrated photovoltaics, LED technologies and flexible circuits to provide a building module which is suitable for energy harvesting, glazing, lighting and acoustic and thermal insulation.
A wonder material for sustainable construction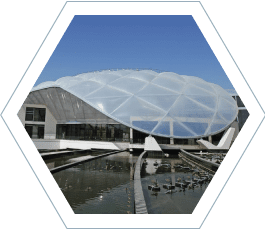 Ethylene TetraFluoroEthylene (ETFE) is a lightweight, transparent, recyclable and strong, fluorine-based plastic which can be used as an eco-friendly construction material. It weighs only 1% of similar sized glass panels, and makes comparable energy savings of around 30% by letting in more light, and letting out less heat.
ETFE is used in buildings as a two or three layered, air-filled cushion, or as a single layer, cable-supported structure. When used as an air-filled cushion, the ETFE foil is supported by a lightweight aluminium frame. Due to its lightness, ETFE can be used where large expanses of glass would be too heavy, providing light and also improving internal building conditions, and thermal and acoustic insulation.
Further, the cushions can be installed with electronic equipment and LEDs, or printed on with different colours and designs for elaborate building façade decoration and illumination.
Building Integrated Photovoltaics
The sustainable qualities of ETFE mean that it could play a large role in reducing Europe's carbon emissions in the building sector. Buildings currently make up around 40% of total energy use in the European Union, and energy efficiency and renewable energies will need become more integrated within building design and construction if the EU is to meet its 2020 goals.
One such example is the emerging field of Building Integrated Photovoltaics (BIPV), which are PV materials that are integrated into a building during construction, requiring specialised materials and integrated planning and design. BIPV modules are usually installed on roofs, but can also be integrated into walls, façades and glazing, with increasingly novel uses emerging.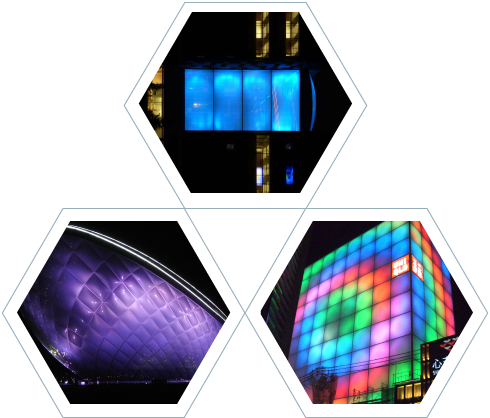 ETFE Multifunctional Modules
Overall, ETFE-MFM aims to increase the use of ETFE and Building Integrated Photovoltaic elements in the construction industry. To do this, the project will develop an ETFE Multifunctional Module for attractive textile architecture, which integrates PV devices to generate electricity, acts as a glazing system, has external battery storage, integrates LEDs and OLEDs, and includes flexible integrated control devices.
The module will provide an innovative element for BIPV integration, and hopes to help bring ETFE architecture from being a niche product, to one with wide application. The module will result in ecological and societal benefits, including CO2 reductions, construction cost savings, enhanced building quality and greater energy independence.
The ETFE-MFM project has received funding from the European Union's Seventh Framework Programme for research, technological development and demonstration under grant agreement No. 322459.
For more information, contact Simon Hunkin (Tel: +32 (0)2 400 10 07) or visit the ETFE-MFM website.