The WASTECOSMART project aims to strengthen and increase the innovation capacity of regional research-driven clusters in resource efficiency through co-operation, research and technological development within the waste sector.
A paradigm shift for resource efficiency
On average, each person living in the EU throws away around half a tonne of household waste every year. This is on top of huge amounts of waste generated from activities such as manufacturing and construction, water supply and energy production. Altogether, the European Union produces up to 3 billion tonnes of waste every year, 60% of which goes to landfill or incineration.
This waste has a huge impact on the environment, causing pollution and greenhouse gas emissions that contribute to climate change, as well as significant losses of materials – a particular problem for the EU which is highly dependent on imported raw materials. Using natural resources more efficiently has clear economic benefits: it improves productivity, reduces costs, enhances competitiveness and creates employment opportunities. It also provides a more attractive and healthy living environment for regions and municipalities.
Moving towards a recycling society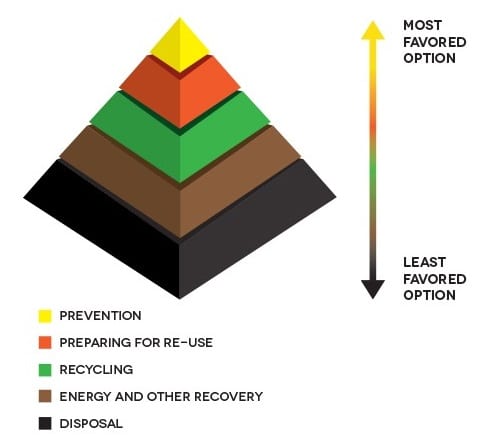 In its 2008 Waste Directive, the European Commission outlined a five-step waste hierarchy, with waste prevention as the best option and landfilling as the worst. In some European countries, recycling and recovery are the predominant waste management options, with the use of landfills being reduced to negligible amounts, whereas other countries still use landfills for the majority of their waste. It will be a crucial task in the future to move these countries up the waste hierarchy to achieve the EU's goal of becoming a recycling society.
This challenge presents a real economic opportunity. Solid-waste management and recycling industries currently have a turnover of around €137 billion which is just over 1.1% of the EU's Gross Domestic Product. Together, these areas create over 2 million jobs. Overall, municipal waste recycling increased from 19% to 38% between 1998 and 2007. If European countries recycled 70% of their waste, it could create at least half a million new jobs across Europe.
However, many regions struggle to move up the waste pyramid, and optimisation of integrated waste management is a key challenge. It requires the formulation of comprehensive waste management strategies, the assessment of research and innovation needs and informed decision-making with regard to the choice of policies, processes and technologies suitable for specific regional circumstances.
Maximising resource efficiency in European regions
WASTECOSMART aims to contribute solutions to this regional challenge by increasing regional innovation capacities for resource efficiency and integrated waste management through co-operation, research and technological development.
For the WASTECOSMART project, six research-driven triple helix clusters (science, industry and public sector) have been formed in Paphos (CY), Central Hungary, Piedmont (IT), Amsterdam (NL), Stockholm (SE) and Liverpool City Region (UK). The project also collaborates with international partners from Brazil, Mexico and India to promote international co-operation and opportunities in waste management.
The WASTECOSMART partners joined forces to:
Foster and promote transnational co-operation of research-driven waste management clusters;
Develop a Decision Support Framework supporting the formulation of waste management strategies;
Assess regional research and innovation needs in the waste management sector;
Elaborate a Joint Action Plan (JAP) and regional research agendas according to needs of each individual regional cluster;
Set measures towards the implementation of the JAP in each region;
Support less developed regions in waste management and unlock business opportunities in international markets.
WASTECOSMART is co-ordinated by Greenovate! Europe member SP Technical Research Institute of Sweden, and also includes G!E members C-Tech Innovation, Atlantis Consulting Cyprus, Amsterdam Economic Board and Greenovate! sprl.
For more information contact Ruska Kelevska or visit the WASTECOSMART website.