Although the EU leads the world in many research areas, it falls behind in commercialisation of its research results. Transforming new technical concepts and solutions into successful businesses represents a substantial challenge, and specific innovation skills are needed to bridge this gap between research and market. Technology transfer does not happen automatically, but needs commercialisation know-how and support.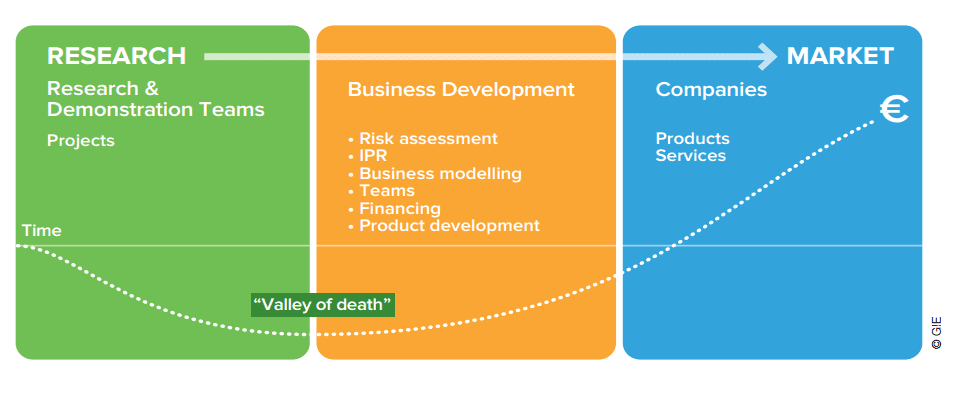 The innovation process
Innovation is neither the research process, nor the same as invention. Innovation is the process of creating something that is replicable at an economic scale and that answers a specific need. In other words, it must be economically viable and provide a solution to a challenge better than competing solutions. Innovation is often divided into two types:
Evolutionary innovation – the dynamic and ongoing evolution of a product or service, based on emerging knowledge or changes to markets and customer needs;
Disruptive innovation – the emergence of a new product or service that provides solutions to previously unanswered needs or that provides a superior solution than had previously existed.
Many of the largest challenges that we face, such as energy security, sustainable industry, and green transportation require disruptive innovations that will change the marketplace. However, it can take many years for knowledge to result in innovative outcomes, as innovation also relies on markets, consumer needs, societal awareness and access to finance.
Open innovation
In order to drive innovation, valuable ideas and solutions must be sourced both inside of an organisation and from external sources, and new products or applications will be co-developed with lead users and key customers. In the same vein, companies will commercialise their unused in-house knowledge through external partners, while focusing their own market activities on core strategic growth areas.
The partners add value to the innovation process by providing market orientation, evaluating technology objectives, and identifying cost-efficient solutions to address innovation challenges. They also share the risks and costs of medium or long-term development and support industrial validation. The result is a de-risked and cost-effective innovation process with higher chances to meet client needs and a reduced time-to-market.
External partners typically include innovative customers and suppliers, technical and research centres, experts from other disciplines or sectors and specialised innovation service companies who can provide market orientation, evaluations of technology objectives and can identify cost-efficient solutions to address innovation challenges.