The Horizon 2020 SME Instrument aims to support high growth, highly innovative SMEs with global ambitions that want to disrupt existing value networks and markets. The SME Instrument operates in three stages, with the aim of transforming disruptive ideas into concrete, innovative solutions with a European and global impact. Calls for proposals are constantly open, but there are several intermediate cut-off dates.
Phase One – Concept & Feasibility Assessment
Idea to Concept (6 Months)
The European Union will provide €50,000 in funding and carry out a feasibility study to verify the viability of the proposed disruptive innovation or concept.
The SME will draft an initial business proposal (around 10 pages)
Phase Two – Demonstration, Market Replication, R&D
Concept to Market Maturity (1-2 Years)
Assisted by the EU, the SME will further develop its proposal through innovation activities, such as demonstration, testing, piloting, scaling up and miniaturisation. It will also draft a more developed business plan (around 30 pages).
Proposals will be based on a business plan. This plan may have been developed in Phase One of the instrument, but SMEs may also directly apply to Phase Two. The EU aims to contribute between €500,000 and €2.5million.
Phase Three – Commercialisation
Prepare for Market Launch
SMEs will received extensive support, training, mentorship and facilitation of access to risk finance, as the project is further polished into a marketable product.
The EU will not provide additional direct funding in this phase.
First Cut-Off
The first cut-off date for the SME instrument was 18 June 2014, and the instrument received a total of 2,666 applications. Italy led the number of applications (436), with Spain as a close second (420), followed by the United Kingdom (232), Germany (188), France (167) and Hungary (166).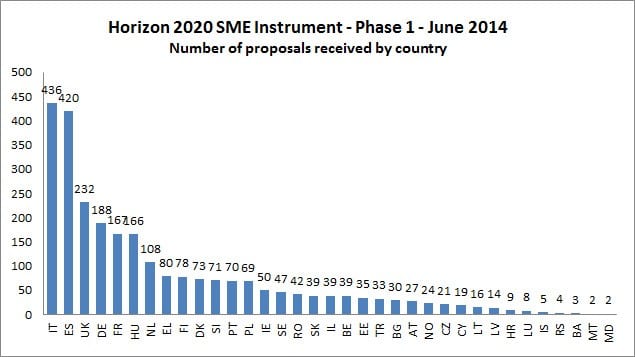 Of these 2,666 applications, 155 were chosen for funding. Spain had the most projects selected (39) followed by the United Kingdom (26), Italy (20), Germany (11), Ireland (10) and France (9). Ireland had the greatest success rate (20%) followed by Austria (14,8% – 4 projects pre-selected), the United Kingdom (11.2%), Israel (10.3% – 4 projects selected) and (Spain (9.3%).

The most popular topics were Open Disruptive Innovation (886 proposals), followed by Low Carbon Energy Systems (374) and Nanotech (310).
For more information, visit the SME Instrument Homepage, or check out the European Commission's infographic.